Proactive Law is made up of three law groups that have come together to create a turnkey solution for those facing the hassles of probate, all the way through advanced estate and asset protection.
Too often, an inheritance ends up being a painful or destructive burden. It is not just what the family does with the wealth. It is what the wealth does to the family. Let us help you avoid the common pitfalls.

When families have a healthy relationship with wealth, the family thrives and the wealth grows and prospers. That is what it means to create a "dynasty." The path to a family dynasty may be narrow, but it is well worn. We have helped guide many families in their journey. We are very familiar with the rough patches along the way. We can help you.

Dynasty Estate Planning is our niche. Typical "estate plans" focus on events surrounding death. The wealth hits beneficiaries like a flood when a dam breaks. They get wet, once, but the water (or the wealth) moves on, leaving a path of destruction in its wake. With Dynasty Planning, wealth can flow through your family like a stream. Each generation receives water in turn. The stream also grows as each generation contributes.
Serving the best clients in the world for Dynasty Estate Planning, Asset Protection, Charitable Planning, Business and Tax Planning, and related matters. We help our clients and their families "live well and live a legacy™." "Dynasty Planning" structures wealth so it will grow and flow like a stream through the family providing water to many generations. Without "Dynasty Planning" an estate will typically just flood and be consumed by one generation one time.

We represent clients throughout the United States and many other countries. Our home office is in Mesa, Arizona. See our licensing and terms of engagement here.
At Durfee Law Group, we represent clients all over the United States of America.
We can help you to realize current tax savings to go along with your future charitable intentions
We can help you preserve wealth for generations so multiple family members can benefit from your hard work.
Schedule an appointment with one of our attorneys to learn more about "Integrated Planning."
Our attorneys are skilled in putting together plans that can significantly improve asset protection.
When it comes to probate, we can help you navigate the legal process from beginning to end.
A podcast about legal and ethical decisions that avoid big headaches.
​
Enjoy stories and scenarios that actual lawyers have experienced so you can be proactive with your legal decisions before disaster strikes.
No upcoming events at the moment
Frequently asked questions
Do I need dynasty estate planning?
---
Dynasty Planning connects a person's desire for strong family relationships and wealth preservation in a way that allows for the assets in the family to foster positive growth for multiple generations. Whether you have a small nest egg or multiple millions, Dynasty Planning may be your next best move. Learn more here: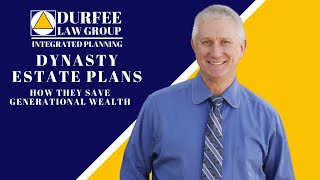 ---
How do I know if I need a will or a trust?
---
Typically, if you own your home (even if you owe money on it to the bank), you would do well to have a trust. If you don't own a home and don't have personal property with values exceeding $75,000 or real estate exceeding $100,000, then a will may be sufficient for your needs.
---
Do you do trust administration and probate law?
---
Yes. Trust administration is essentially the accounting of a person's assets upon their death and distributing them to the intended beneficiaries as set forth in the decedent's Trust. Probate is the accounting of a person's assets upon their death through the court system, which requires differing degrees of supervision by the court depending on whether it is a formal or informal probate. We do all of these.
---
Do you have to be a millionaire to have an estate plan?
---
No. Many people don't realize that everyone benefits from having an estate plan. An estate is what you own. If what you own is a car, clothes and some jewelry (and no other items or property), then that is your estate. People have motivated their friends and loved ones by leaving objects behind as a memory of their affections. For example, a mother may leave a baseball to her son and let him know that she always enjoyed watching him play. It is also true that some people have several millions of assets in their estate. Whether you have a few items or millions in assets, Durfee Law Group can help with your estate plan.
---
What documents are included in a typical estate plan?
---
Most estate plans have what we call "basic documents". These include
Last Will and testament
Durable Financial Power of Attorney
Durable Healthcare Power of Attorney and
Living Will.
If you own a home and/or have other assets (business interests, real estate, highly appreciated art, or expensive jewelry), a Revocable Living Dynasty Trust should be a part of your estate plan. This means that you would have a Revocable Living Dynasty Trust and the basic documents. More advanced estate planning takes place when you have several business interests and/or own lots of real estate. We provide a free consultation. Whether you have a simple estate, or millions in assets, we can help.
---
---